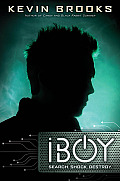 Before the attack, Tom Harvey was just an average teenager. But a head-on collision with high
technology has turned him into an actualized App. Fragments of a shattered iPhone are embedded in his brain. And they're having an extraordinary effect on his every thought.
Because now Tom knows, sees, and can do more than any normal boy ever could.
But with his new powers comes a choice: To avenge Lucy, the girl he loves, will he hunt down the vicious gangsters who hurt her? Will he take the law into his own electric hands and exterminate the thugs from the South London housing projects where, by fear and violence, they rule?
Not even his mental search engine can predict the shocking outcome of iBoy's actions.
The plot seems a little far-fetched, but still in a "hmmm....this could be possible" way. Tom is the typical everyday teenage boy who seems to almost be the victim of circumstance--wrong place at the wrong time kind of deal. It's left him with a sudden responsibility and power he's never experienced.
Brooks has given this story kind of a comic book hero feel (in the realm of Spiderman, in my opinion). The good guy suddenly has a power no one else has, it's unexpected and really came out of nowhere, but he's also just a guy. Grounding the story with very typical teenage boy situations (liking the girl who, as it turns out, likes him).
The gang activity does it make for a meatier story. There are some powerful conversations between Tom and Lucy (he's crush, and the girl who needs a little rescuing from her own personal super hero), and when Tom questions a gang member.
FYI, this book does discuss gang rape and gang activity. It's not overtly graphic, but there's no mistaking or glossing over what happened. I know reviews say it's 14 and up, but I wouldn't hand it to the majority of my freshman students.
Disclosure of Material Connection: This title is part of the permanent collection for the library that I oversee. No publisher or representative contacted me and I was not required to read it or prepare a positive review. I am disclosing this in accordance with the Federal Trade Commission's 16 CFR, Part 255: "Guides Concerning the Use of Endorsements and Testimonials in Advertising."